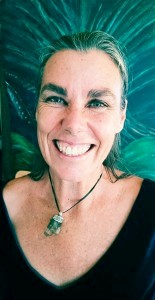 Tree (Michelle Hunt)
Awakening Through The Body holds individual sessions, classes and workshops both on Zoom and in person to assist you in coming home to your true nature- one of inner peace- awake and embodied.
Awakening Through The Body
Level 1 Certified TRE® Instructor; Global Certified TRE® instructor, Certificate in Cherokee Body, Shamanic Healer and Spiritual Mentor
I work as a Certified TRE instructor, Spiritual Mentor – and Intuitive Shamanic Practitioner transforming energy through Spirit guided ceremony. Working with intuitive awareness, incorporating guidance from Spirit realm, in hands on transformative work. Freeing blocked energy in the body and energetic body, lightening the load allowing a freer, more balanced self to emerge. Having discovered shaking medicine through shamanic practice and having trust in the body's wisdom when I was introduced to David Berceli's TRE® process I was amazed at how simple and effective it was to invoke the bodys' innate natural release mechanism. I was also extremely impressed by the transformative capacity of this self-empowering, self-healing technique. My own personal transformation through the TRE® process included the release from debilitating, chronic pain. I have also found the balancing of my nervous system through the ongoing use of TRE® to be profoundly life changing and conducive to Spiritual Awakening. With such positive effects in my own life I was compelled to study TRE® and became a Certified trainer so as to share this work. I enjoy working with people seeing them realise their potential for release, healing and wholeness. I work from Meher Farm which is a beautiful place surrounded by forested hills in the Bega Valley, which by it's sheer beauty and tranquility support this transformative work. Meher Farm is a place for retreat into nature, healing and oneness. Nature softly cajoles one to oneness! Workshops are held at Meher Farm and can be arrange for groups; family, friends or business. I am also willing to travel and teach ONLINE.
Current workshops are; Introduction to TRE- NOW available On Zoom. Shaking to Awaken group classes. Restorative for Body And soul. True Nature Shamanic Workshop . Silence of Being Workshop for Awakening and TRE for Sports Recovery.
I also have a special interest in the evolving consciousness of humanity and feel that TRE and healing trauma is a path to Spiritual Awakening. I feel that trauma and a disregulated nervous system can hold our true nature hostage. I work with this precept with you to assist in discovering your complete freedom. I am a member of the the Association for Spiritual Integrity.
Enter your address above and click 'Get Directions' to find out how to get to this Provider.